Become a member
today

and gain access to the

Regulatory Hub

We strive to provide our clients with top notch platform to enable better compliance

Start Now
Research
Browse through new publications relevant to you by using our advanced cognitive analytics.
Share
Add as many users as needed, assign tasks, manage workflows, and monitoring collective activity.
Control
Keep track of regulatory activities around the world, your reports, bookmarks and workflows.
Define
Define customized reports with email notification about any topic of interest including specific themes.
Predict
Conduct big data analysis to explore regulatory trends, research topics and anticipate emerging topics.
Evolve
Enjoy innovation in personalization, predictive analytics, correlation, and robotics.
Globally Preferred Regulatory Change Response Platform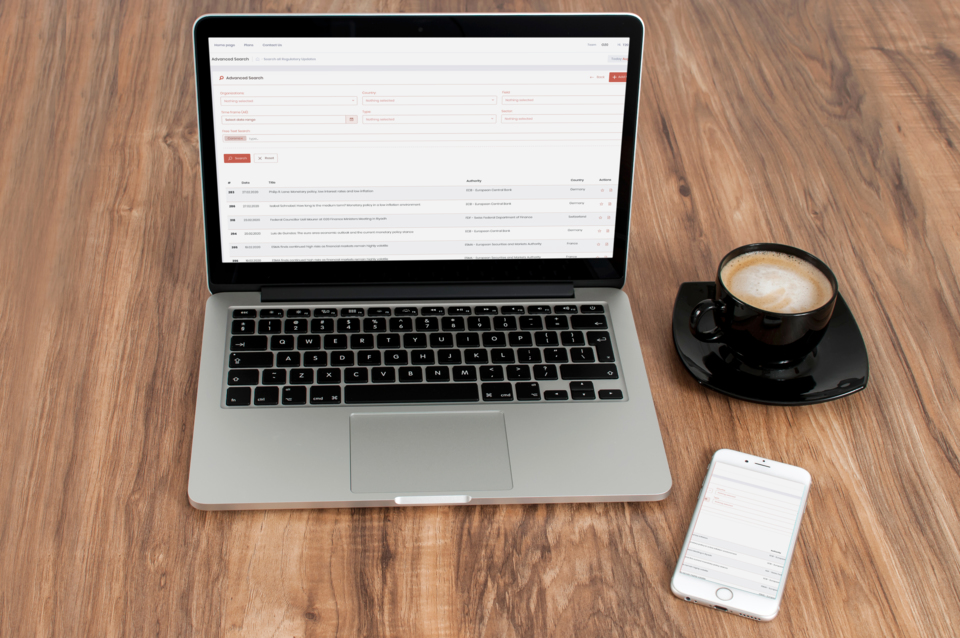 Why clients choose RegRadar
RegRadar is an ever-expanding online AI regulatory hub that collects and analyses regulatory information from around the globe, allowing its users to keep track of regulatory information relevant to them by creating personalized views and alerts, follow latest trends and cooperate with worldwide professionals.

RegRadar is known for its holistic approach which consist of technological tools, add-value services, and its community of instutions as well as professionals. With RegRadar, not only clients get the information they need but also the tools and network to respond to it.
Our community consist of
Financial Institutions
Regulatory Authorities
Rating Agencies
Research Institutions
Policy Makers
Software Providers
Consultancy Firms
Law Firms
Popular use cases
Regulatory compliance monitoring
Market events and shocks response
Relevant regulations identification
Cross sectors and jurisdiction assessment
Integration into organizational processes
RegRadar comes with Unlimited Monitoring & Options. Check Out